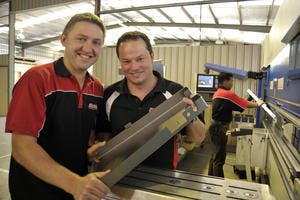 New Touch Laser Cutting
Make It Cheaper helped New Touch Laser Cutting negotiate competitive rates for their energy needs.
New Touch Laser Cutting began in 2001 as a two man operation and has rapidly grown to become one of the industry's premier companies. Currently operating 6 machines, 24 hours over two locations in Bayswater and Clayton South.
In addition to our Laser Cutting Services we deliver a complete range of Fabrication Services
New Touch Laser Cutting is renowned for providing high quality laser cutting & marking services at competitive prices. We offer an expanded range of services to meet your Laser Cutting & Fabrication needs.
Brad Drury the co-owner of New Touch Laser Cutting along with the Operations Director, Alex Vandenbroeck, came to Make It Cheaper after seeing the new partnership being spoken about in the April edition of the AMT magazine, the commercial energy contracts were coming up for renewal so it was perfect timing.

Once Brad called the dedicated 1300 number to get in touch with Make It Cheaper, he got in contact with one of the Commercial Account Managers: Josh Hicks. Josh is a long standing employee and loves to service partners needs by negotiating competitive energy rates. Here's what Josh had to say:

"I've always enjoyed the concept of helping Australians save time and money, since moving to the Commercial team the satisfaction is at an all-time high due to being able to save Australian businesses thousands off their bills. Working with Brad was a pleasure and I was really happy with the result, I look forward to talking to him when the contract is up for renewal in 2 years to service his needs again"

Brad has been a long standing member of AMTIL and when the association provide value back to the members he knows that the results can be relied upon. Once Brad called Josh to discuss the upcoming contract, Josh got to work to get live rates from a long list of retailers to discover which would be most competitive. Once he received that information he presented back to Brad, this details who offered to price the energy and at what price, the last step is to choose which of the competitive offers the client would like. It's a really easy service and here is what Brad had to say about using Make It Cheaper:

"I chose Make It Cheaper as they are the official energy partner for AMTIL, I know that if my association is recommending a service it is usually for a good reason. All I had to do was ring the 1300 number and get through to one of the experts.
"I found Josh very professional throughout the process and he answered any queries with professionalism and haste. Using Make It Cheaper made the process extremely simple and quick; they also achieved some very competitive pricing for my energy. Not only do they handle the pricing and set up of the contracts but when it expires in 2 years they will recontact to renegotiate the pricing again."
"We would strongly recommend your services to others and especially to readers of AMT and members of AMTIL."

It's great to see our expertise pay off – by helping another company to cut out the time and hassle of setting up a new energy contract, we've enabled them to focus on achieving their own goals for growth and productivity.
Visit our business energy page to see how we can help your business save.