Upload Bill, Find Savings and Be In To Win A LOR Hamper

You have a chance to win a $2,500 Kitchen Hamper, including a LOR Barista Premium Pod Coffee Machine for your office team.
Below is a full list of of all the hamper inclusions, from LOR Espresso packs, Ti Ora flavoured teas, Moccona Barista Reserve to Moccona Specialty Blends.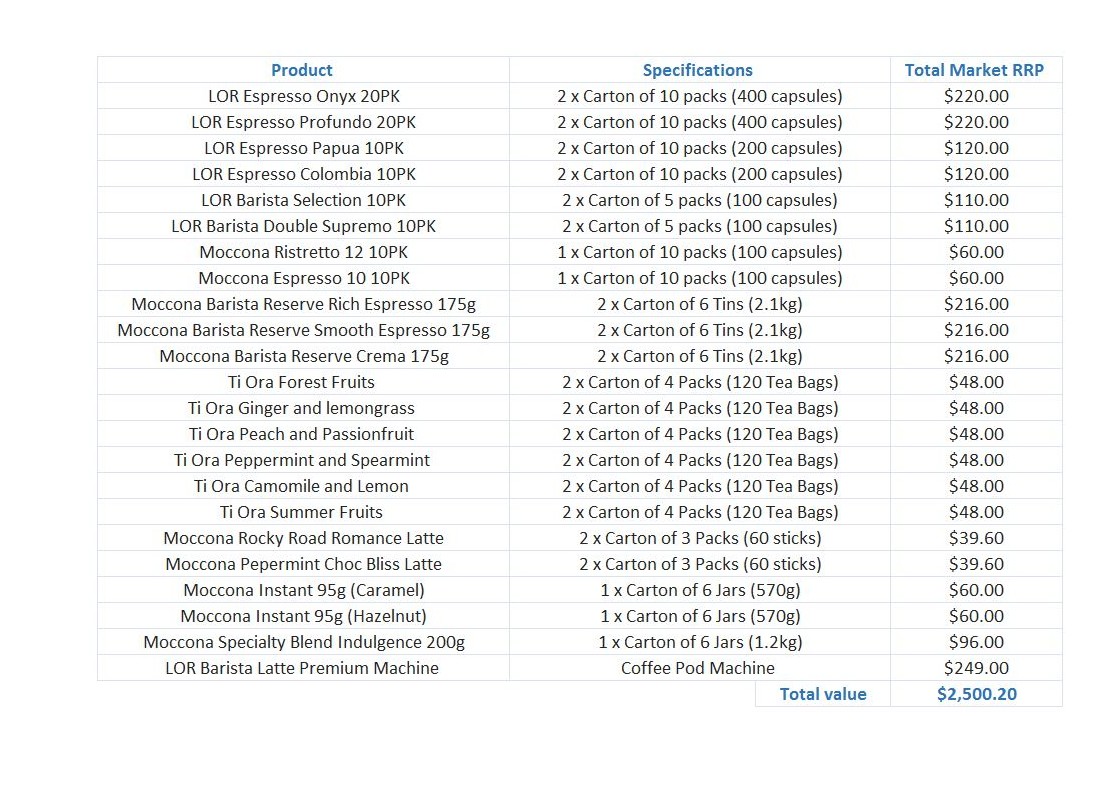 Office Kitchen Hamper Competition Terms and Conditions
1. The promoter is Make it Cheaper Australia ABN: 29138847757 of Level 5, 100 William Street, Sydney 2011. Phone: 1300 957 721. NSW. Licence Number: LTPS/19/32733.
2. Entry is only open to Australian businesses that are currently signed and affiliated to Make it Cheaper Partnership Association contracts, and whose electricity or gas plan is metered in New South Wales, South Australia, Queensland (excluding premises in the Ergon distribution zone), and Victoria.
3. The Promotional Period commences on 26 March 2019 at 9.00 AM and final entries close at 5:00pm 26 April 2019.
4.    To enter The Draw, Entrants must, during the Promotional Period:
(a)  Upload an electricity or gas bill issued in the last 6 months and submit their contact details (name, email address and phone number) via the Partner Association promotional landing page on the Make it Cheaper Australia website.
(b) Get a bill comparison completed by Make it Cheaper. Please note there is no obligation to proceed with new plan in order to enter this draw.
5.    The Draw will take place on 30th April 2019 between 9:00am and 5pm by random selection at Level 5, 100 William Street, Sydney 2011.
6. The Draw winner will be notified within 2 business days via phone and email communications, and then publicly announced on Make it Cheaper's Facebook page, 6th May 2019
7.    The winner of The Draw will win a Jacobs Douwe Egberts (JDE) Kitchen (Coffee & Tea) Hamper Pack valued at AUD $2,500.
8.    If the winner cannot be contacted within 14 days of The Draw, a further random draw will take place within 2 business days.
9.    There is a limit of one entry per business.
10. Make it Cheaper reserves the right to verify the validity of entries and the right to disqualify any entrants for tampering with the entry process or for submitting an entry which is not in accordance with these Terms & Conditions of Entry.
Disclaimer: 
© 2019. All rights reserved.
If you have any questions or concerns, please contact us on
1300 957 721
Or email