Make it Cheaper is fundraising to help the bushfire crisis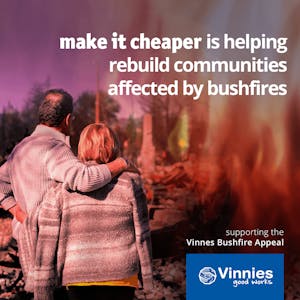 Make it Cheaper is proud to support the Vinnies Bushfire Appeal to help rebuild affected communities across Australia.
The following fundraising activities are running from January until March 31st 2020.
$10,000 donation
Make it Cheaper has pledged a minimum of $10,000 on behalf of our customers to support Vinnies Bushfire Appeal.
Referral program
When Make it Cheaper customers refer a friend to receive a free energy comparison, they can elect to receive a Coles Myer Voucher, or for the cash equivalent of their reward to be donated to the Vinnies Appeal if their referral is successful.
Make it Cheaper Social Club
The team at Make it Cheaper are passionate about supporting the Bushfire Appeal, so have nominated that all Social Club activities will help fundraise for Vinnies, the team has numerous activities planned from cake sales to trivia competitions to increase our contribution.
Make it Cheaper has received approval from Vinnies to fund-raise on their behalf: Letter of Authority