How To Find Cheap Electricity For Your SME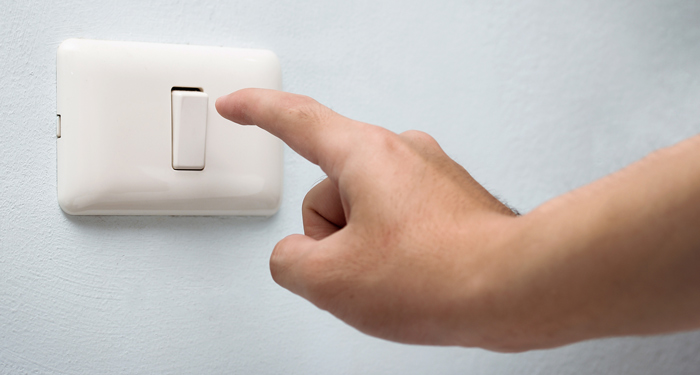 Australia has a history of expensive electricity rates. This is especially true when compared to other parts of the world as shown below.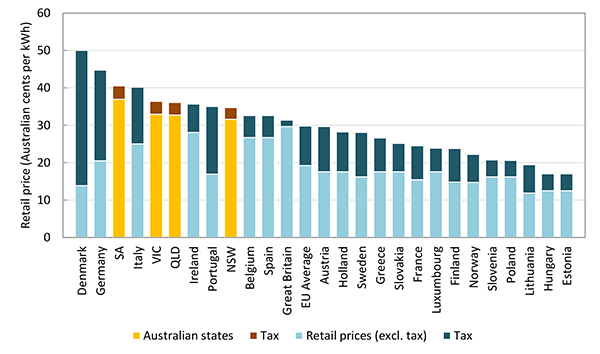 Interestingly, Australia is also endowed with an abundant supply of energy resources.
Even as we turn to cleaner energy, Australia is rich in renewables. Beyond Zero Emissions puts our solar and wind capacity at 75% more than oil, coal, gas and uranium combined.
There have been efforts to bring down the cost of power in Australia. These date all the way back to the 1990s.
For costs to come down, the Federal Government made a move to deregulate the country's energy sector. We'll delve into this in more detail below.
Energy usage costs are a major component of business expenses.
For any business, reducing how much you spend on electricity and gas can help bring down your costs.
You need to find a competitive deal for your business. The simplest way to do this is by comparing a range of energy plans from several retailers. 
In 2018, Make It Cheaper conducted a study, assessing energy bills for over 22,000 customers. The study factored in both businesses and households. 
Its findings indicate that a good number of Australian customers are paying more for electricity than they should. They could incur lower energy costs by comparing plans from multiple energy retailers.
As many as 80% of Australian SMEs could benefit from a cheaper plan as a result of electricity comparison. On average these savings amount to more than $1000 every year. This, however, varies between the states and territories.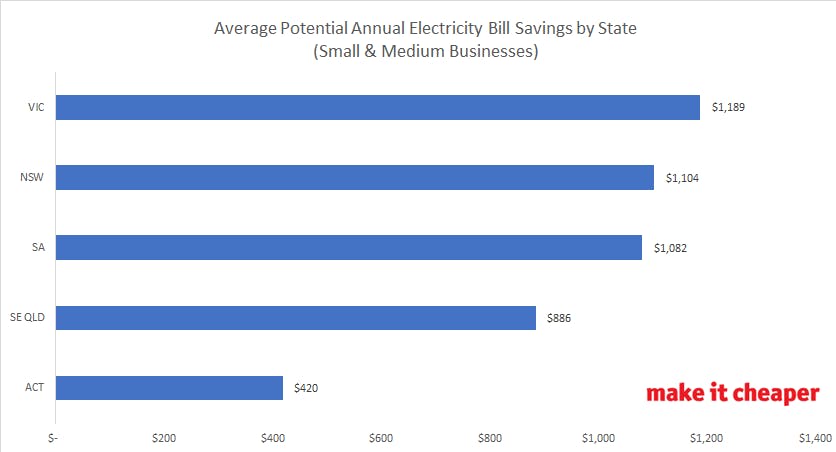 What Deregulation of Australia's Energy Industry Means for your Business
In the past, government authorities in Australia's states and territories provided energy services.
At the time, this made a great deal of sense. It was more feasible than having private sector suppliers competing to get a share of the market. We can attribute this in part to the high costs of setting up the infrastructure to generate power. And all for a customer base which was relatively limited back then.
As such, the provision of electricity was a regional matter. Customers could only rely on suppliers within their respective geographical areas. This meant that many parts of the country found themselves in the dark, literally.
Growing energy needs brought about the restructuring of the energy industry. A policy framework was then developed towards the turn of the century.
It championed an approach that encouraged more players to step into the market. The Australian energy sector embarked on a journey to deregulate. Improving market choices for the consumer.
Deregulation entails a shift from pricing regulations determined by the government. Pricing is now up to private energy providers. Meaning the country benefits from a competitive electricity market.
Such an environment is rife with competition among these companies. This is good news, as their quest for market share benefits customers. This is because electricity providers engage in competitive pricing.
Energy retailers offer cheap energy plans to attract more customers. As such, you can choose the most affordable plan for your SME. That way you can make sure you're saving and thus reducing your operational costs.
Why you Shouldn't Manually Compare Business Electricity Costs
With energy retailers competing for you to choose them, all you have to do is compare their plans.
Unfortunately, many businesses fail to conduct electricity price comparisons. And, many of those who do wind up frustrated or giving up altogether.
Why is this?
Often, small business owners attempt to do the calculations and comparisons manually.
This process requires a great amount of time and extensive research. And, this applies to the many different energy plans from one energy provider alone.
Obtaining and analysing information from multiple energy retailers is daunting. And sometimes feels altogether impossible. 
When manually comparing plans you should be aware that many factors come into play. The final figure on your bill includes varying factors such as:
The cost per kilowatt-hour during peak and off-peak hours.
Discounted rates and offers which vary across regions and individual contracts.
Supply charges vary depending on your area.
Your time of day and amount of usage also impacts your bill.
If you have solar panels or not.
That's what makes Make It Cheaper's energy plan comparison service a valuable asset for SMEs. We go over energy plans from a selection of the country's leading electricity providers. Factoring in different variables, we then recommend the best plan suited to match your business needs to save you time & money.
What to Know About Electricity Rates for Business?
The total cost of your power bill consists of two kinds of charges. First, there's a fixed charge for the daily supply of electricity to your business. The second component is a variable charge depending on your usage.
Variable charges are determined differently based on your energy plan. These are in line with the following tariffs:
Single Rate Tariff
A single rate tariff has a standard cost per kilowatt-hour (kWh). This cost remains the same at all times in a given day and on all days in a year independent of energy usage.
Time of use Tariff 
With this type of tariff, rates vary depending on the time of day when you're using power. Peak hours have the highest demand and thus the highest rate per kilowatt-hour. During off-peak hours, there is less demand and the rates are lower.
Energy providers may also set their own off-peak and peak hours.
Controlled Load Tariff
A controlled load tariff is a special rate that usually applies to specific metered devices. These devices are often required to run at off-peak hours.
Which Supplier Offers the Cheapest Electricity Plans?
The cheapest electricity provider can differ based on the area and the size and needs of a business.
The only way to tell for sure is to compare electric pricing from different retailers.
Make It Cheaper compares business rates across more than 10 of the country's top retailers. This ensures you don't pay any more than you have to. You can also often find cheaper plans if you compare energy plans from your current supplier. 
Make It Cheaper compares plans from a range of energy suppliers including:

What Happens if I Change My Energy Supplier?
If you're concerned about changing your energy plan or retailer before your contract expires, you needn't be.
"There's no need to wait until the end of the current contract to get a better deal. Energy prices can change throughout the year…" - Department of Industry, Science, Energy and Resources
Just keep cancellation fees in mind if your contract is on a fixed-term basis.
Switching plans from one energy supplier to another is relatively painless. Given that the distributor is the same, you won't experience a power interruption.
Make It Cheaper also simplifies the process, saving you time and energy. With just a phone call, one of our experts can assess the potential savings you can make.
And, we only recommend switching if you stand to benefit from cheaper rates or you aren't happy with the service you are currently receiving.
Don't Pay More than you Should with Make It Cheaper
Electricity comparisons are the way to go for all businesses. Why should you choose Make It Cheaper as your go-to energy comparison service provider?
Free Service
The cost of electricity is high enough without having to meet the costs of comparing electricity plans. At Make It Cheaper, our comparison service is absolutely free of charge.
Instead of having you incur any cost, we receive introductory fees from retailers. At Make It Cheaper we are committed to helping small businesses and this is one way for us to do exactly that.
And, if you'd like to pay less for gas, we compare gas plans as well.
Simple and Fast Process
You can get in touch with us by phone, or talking to one of our consultants via live chat on our website, or leaving your details and one of our energy experts will be in touch.
All you need is a recent electricity bill at hand. A consultant will guide you through your options and help you find a competitive plan. We look at the different offers from a range of leading Australian energy suppliers.
We always take your unique business needs into consideration. That way you get a great deal and start saving.
You can also submit your energy bill online, this means that your comparison will be even quicker. The Make it Cheaper energy experts can tell you very quickly what options are available to you for electricity, gas or combined electricity and gas plans.
Simply upload PDF copies of your recent energy bills. You'll receive savings estimates based on your actual power consumption.
We only recommend a change when we can prove that you'll save by switching to a different energy plan. Or to help you secure competitive rates and to prevent you from rolling onto an often more expensive standing offer.
Tried and Tested
The best part about doing something well is that your work speaks for itself. We are among the leading electricity, gas and combined energy plan comparison services in Australia.
Since we started in 2009, we have: 
Arranged over 150,000 electricity and gas contracts for Australian businesses.
On average save Aussie Businesses a combined figure of $15 million per annum

We continue to receive positive feedback from those who have used our services.
"Always great service every two years. Review power/gas. Has saved me thousands with home and business over the years." - Karyn, Sydney 
"We recently signed on for another 4-year contract with MIC after Lucy Block found us a nearly 50% saving on our current electricity plan in Brisbane. The customer service we received was great, Lucy was very quick to reply and worked closely with us as we finalised the contract. The pricing she found for us is fantastic, we are very happy." - Jason
"Friendly people and the process was easy. By just uploading our current bills they have saved us on both our meters spending the time to answer all questions without a hassle. Would definitely recommend Make it Cheaper" - Jo-Anne, Goulburn Valley
You can read more reviews about our service here.
We have a dedicated page on our website looking at case studies. These are clients we have helped make significant savings. 
The following are a few highlights from the Make It Cheaper Success Stories series.
Case Study 1: Stonecutters Ridge Golf Club
Stonecutters Ridge Golf Club operates 18 hours a day. With such high demand for electricity, Make It Cheaper is helping the Club save $75,000 annually on a three-year contract.
Case Study 2: Radisson Blu, Sydney 
Over a three-year contract, we are saving Radisson Blu $100,000. The hotel faced an unprecedented 128% increase in energy costs. 
With Make It Cheaper, Radisson Blu, Sydney not only saved time but averted a tedious negotiation process. We put their energy contract out to tender, ensuring they got the most competitive energy plan.
You too can have a success story of your own. Start saving by when we find you a competitive and cheap electricity plan for your business. 
Get started by simply clicking here.
Photo by: freepik from shayne_ch13