How SMEs Are Losing Money by Failing to Compare Electricity Prices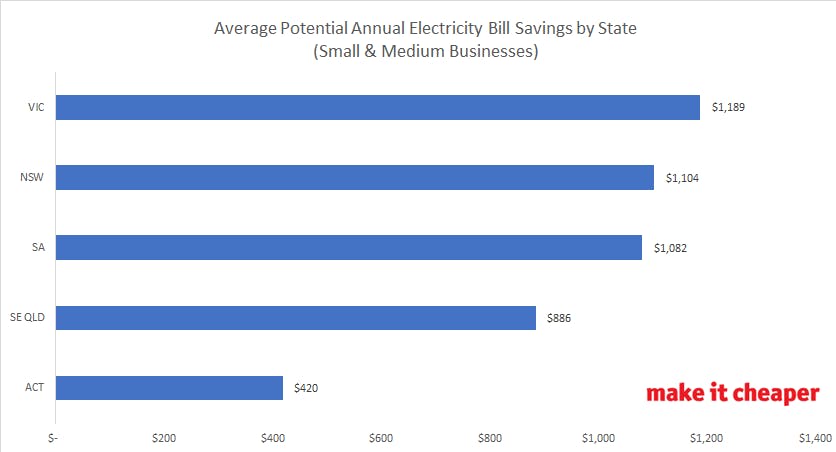 SME's in Australia lose between $420 and $1,189 on electricity plans.
This loss is a result of complacency. In deregulated regions, comparison for electricity can save SMEs money.
If you compare electricity costs for your SME, you can save money. This is money you can reinvest into growing your business.
Read on to learn more about:
The average cost of electricity for Australian SMEs
Why you should compare energy providers and find a better deal for your SME
What Are the Average Electricity Costs for SMEs in Australia?
A comparison study by Make It Cheaper revealed most businesses pay more than they should. They end up with higher bills by failing to compare offers from different energy retailers.
According to the study, 78% of businesses could get a better deal by switching providers. Comparing energy plans gives them access to better rates and discounts.
Most businesses don't know the saving potential in comparing and switching energy plans.
"The cost of complacency is huge. Most Australians don't realise how much they could save and just how easy it is to get a comparison done." -Make It Cheaper CEO, Fred Van Der Tang
Small and medium-sized businesses can save up to $1,101 annually (in some states) by switching.
Through market comparison, SMEs can choose between different energy service providers. These energy retailers compete on tariff prices and discounts, giving SMEs an advantage.
But, the tariffs available will vary by states and territories. Only businesses in deregulated territories such as South Australia and New South Wales enjoy electricity comparison.
How Much Can SMEs Save Per Year by Comparing Energy Plans?
The average energy savings available for every 20,000 kW/h are:
Australian Capital Territory: $420 annually.
Victoria: $1,189 annually.
South East Queensland: $886 annually.
South Australia: $1,082 annually.
New South Wales: $1,104 annually.
Often, the energy rates depend on both competition and state regulation. 
New South Wales, for example, has over 30 providers yet consumers still pay higher rates. This is mainly due to high production costs. As of 2018/2019, over 80% of the electricity available in NSW came from coal.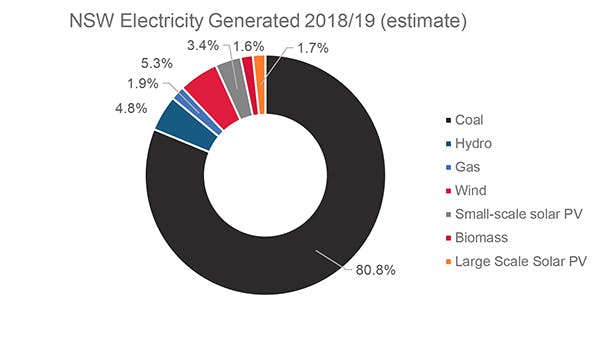 On the other hand, South Australia relies more on wind energy. Compare it to NSW, which has fewer retailers available, thus less competition. 
How to Compare Electricity Plans and Save Money for Your SME
Energy retailers often have two main energy plans available:
Business plans - These energy plans serve specific business needs. They follow a specific design to support businesses.
Residential plans - These cater to domestic energy consumers. They only offer the basics of maintaining domestic appliances.
When you compare electricity and gas rates available from different providers, consider:
The billing period - This is the time span between each bill. A shorter billing period makes it easier for you to track your spending.
The single rate of business electricity tariffs - This rate stays the same every day, all year round. The amount per kWh per day does not change regardless of the time of day or season.
Time of use electricity tariffs - The kWh rate changes at different times of the day. You will have peak hours, off-peak hours and shoulder hours.
Controlled load business tariffs - This special rate remains the same. But, it only applies to special appliances metered separately. Make sure you find an energy provider with a better price available for metered appliances.
In addition to the tariff rates, you should look into the energy discounts that will be made available to you. Your business can enjoy discounts such as:
Sign up discounts - You qualify immediately when you sign up to the new provider.
Plan renewal discounts - You can access these discounts if you choose to renew your plan. You will often qualify for this at the end of your contract and only if you choose to renew it. 
One-off energy discounts - Some energy service plans come with one-off customer discounts. Depending on the percentage, it can lead to significant savings.
Pay on time discounts - These are discounts you access over time if you make your payments on time.
Direct debit discounts - This applies if you have an automatic debit card. The energy provider can then charge this card in each billing cycle. This gives you access to specific discounts.
Special requests - In some cases, you can write to the energy company and request for a discount. If your energy usage is predictable, they might offer a special discount.
Why You Should Consider Switching Your SME Electricity and Gas Plan
As an SME, you should always look for opportunities available to help you save money.
You can take advantage of deregulation rules in specific states and territories, such as:
South Australia
Victoria
South East Queensland (Including Brisbane, Gold Coast, Ipswich and Sunshine Coast)
New South Wales
Australian Capital Territory
These rules open up the market to multiple providers. Depending on your energy usage, you can often access a better deal.
Switching energy providers helps your business:
Find Discount Pricing
Providers are always looking to sign up new clients. In most cases, they will offer energy discounts to attract your business.
While looking for a better energy plan, don't get fixated on the discount. Make sure you look at the complete energy offer and not individual perks.
Make It Cheaper offers this comparison service for free. We will analyse offers from different providers. Helping you find you a competitive energy plan.
The energy comparison service at Make It Cheaper will look into:
Finding you a great tariff rate. Often, we will analyse your energy usage and find you the most suitable energy plan.
Finding an energy plan and energy provider with excellent customer service as well as a customer-focused service plan.
Getting you a discount. The comparison service focuses on comparing available discounts. We will then find you the best combination of discounts. 
Analysing energy usage. By analysing your energy usage, we can give you the information available to choose the energy plan that suits your needs.
Find Energy Retailers with Monthly Payment Plans
Choosing energy retailers with monthly payment is a good option for your SME. A monthly plan helps you manage and track your electricity and gas usage.
With a monthly plan, your SME will have an easier time tracking its energy usage. The monthly comparison service available from Make It Cheaper can help you:
Identify energy cost-cutting measures.
Measure your energy usage against your monthly production.
Understand your electricity and gas bills and their impact on your bottom line.
Understand and analyse available energy bills so you can make a choice. 
Compare plans with ease and choose a better energy service provider.
Access Better Customer Service
Research estimates 2.1 million Australian energy consumers are considering switching energy providers.
Bad customer service is enough to prompt looking at new energy providers.
In business, better customer service from energy providers can:
Simplify your energy bill payment process. This helps you stay on top of your bills at all times.
Save you the time you'd otherwise spend on the phone trying to follow up on your electricity and gas plan.
At Make It Cheaper we partner with providers that offer excellent customer service. We want to make things easier for you so we ensure all our partners offer a great service.
Make It Cheaper can help you find a better energy plan with helpful customer service.
Compare and Switch With Make It Cheaper

The amount of energy you spend daily affects your SME's bottom line.
You need to compare energy prices from available energy plans to find a competitive deal.
To compare energy plans, you need to:
Study your current energy plan and analyse your usage per day.
Compare energy plans from different service providers.
Understand your usage and compare it to available energy plans.
Make an informed decision and choose the best energy plan for your business.
Without the right experience and information, this is a hard decision.
Make It Cheaper helps you make this decision. We will compare energy plans from different companies and help you find a better plan.
We offer free electricity, gas and utility comparison services. Make It Cheaper will:
Analyse your electricity bill.
Compare energy plans from different providers.
Find you an energy plan with a competitive deal.
Help you make the switch to your new energy plan.
You can access all these services and more from Make It Cheaper today. Compare your electricity plan today and make the switch.