Failing to Compare Energy Providers is Costing Your SME Money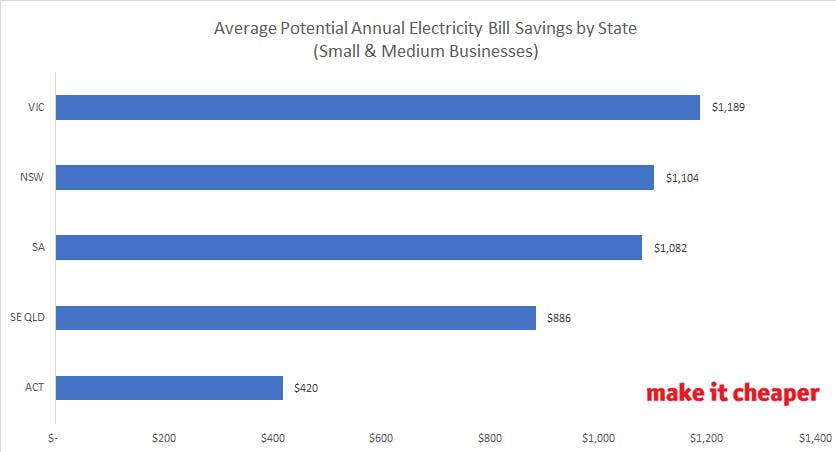 Electricity comparisons can save your business between $420 and $1,189 per year for every 20,000 kWh of energy you use. 
In fact, in the past 10 years, Make It Cheaper has saved Aussie homes and businesses millions of dollars on their electricity and gas bills.
With such savings, your SME can reinvest the money into:
Growing your business
Improving the customer experience
Appreciating your employees
These investments can help you improve your bottom line, which is a top goal for most SMEs.
Free electricity and gas market comparison services from Make It Cheaper help you cut costs by:
Comparing and finding you a competitive energy provider.
Helping you find energy plans with market rates & discounts.
Managing the switch for you to save you precious time and leave you to get on with running your business. 
In this article, you will learn more about:
The basics of energy comparison
Benefits of comparing energy plans
How to switch your energy plan
Understanding Energy Comparison
Energy comparison helps you compare electricity and gas plans from different providers. This way, you can find out of there is a better electricity or gas deal for your business. In Australia, you can divide the country into two major energy markets:
Government-regulated energy markets - The government sets prices in these markets. There are no private companies competing for customers. This limits consumer options.
Deregulated energy markets - These markets have several energy providers. Deregulation laws open up the market to private companies. The companies offer competitive rates to win customers. This gives customers more choice and savings.
Deregulation of Energy Plans in Australia
Before 1991, the entire energy supply and the retail system was under state regulation.
Since governments do not work on a profit model, they had little incentive to keep costs low. This often led to high electricity and gas production costs. They would then transfer the costs to consumers.
After 1991, State Governments started deregulating the supply and retail of electricity. This opened up the industry to several players in the private sector. 
Through deregulation, energy consumers can:
Access cheaper energy prices and a flexible electricity plan.
Have a more secure supply system.
Since then, more states and territories have deregulated their retail markets. Today, you can enjoy market deregulation and a better electricity plan if your home or business operates in:
Australian Capital Territory
South East Queensland
New South Wales
South Australia
Victoria
Deregulation and Energy Plan Comparison
Deregulation removes retail pricing from governments, transferring it to private energy companies. This makes the energy market competitive. 
Because of deregulation, you can compare energy plans from different energy electricity providers.
This gives your business an opportunity to:
Choose your preferred energy provider
Negotiate a competitive plan 
Enjoy the competition between different providers
Energy Comparisons for SMEs
To enjoy the perks of deregulation, you must compare energy plans.
As an SME, you can enjoy comparison services from Make it Cheaper.
Make It Cheaper offers free comparison services. These include:
Analysing your bill and current plan to understand your energy usage.
Compare your current provider to other providers in your area.
Find you a competitive deal and advise you on how to make the switch.
Support you as you switch to the more competitive plan, this includes:
Ending your current electricity contract with your current energy provider. Initiating conversation with the new energy provider.
Managing paperwork between your SME and the new provider.
Making follow-up calls with the new energy providers.
Ensuring the switch is completed and your you are billed correctly on your new tariff.
The only way for you to find a better deal is to compare energy plans. But, you need to analyse a lot of information to find better deals.
You can save yourself from information overload by working with Make It Cheaper. We offer comparison services for free.
How Energy Comparison Benefits Your SME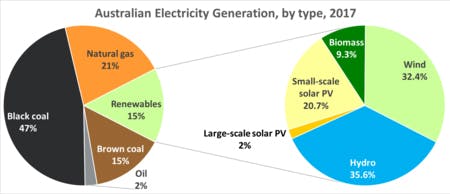 Electricity and gas comparison services exist to benefit consumers. As an SME it's an opportunity for you to save money and shop for a better deal.
Comparing energy retailers helps your business:
Find a Better Energy Deal
When you compare deals, you can review energy plans and find a better deal for your SME.
A better deal for your SME means:
A contract set to fit the energy usage of your business.
A better rate for your large metered appliances. This is quite useful if you need to run your appliances for long periods to keep up with production.
An opportunity to find peak and off-peak rates beneficial to your business. If the off-peak and shoulder rates align with your peak hours, you can enjoy huge savings. It is important to speak to energy experts to review your usage and find rates that work for your business energy consumption.
Market offers are up to 26% cheaper than standard offers, ensure that you stay on a competitive market offer to maximise savings. 
While looking for a better deal, you need a lot of information on the workings of energy retail. As an Aussie business operator, the information and options available might overwhelm you.
You will find competitive deals if you work with a free energy comparison company like Make It Cheaper. We review your current rates, discounts and usage profile against the plans available from our panel of leading energy retailers to find you options to help you save money.
With this information, you can switch to a better electricity and gas company fast.
Choose Excellent Customer Service From Your Energy Provider
One of the biggest frustrations, among Australian energy consumers, is poor customer service. Every year, about 2 million consumers switch providers due to poor customer service.
It is important to Make it Cheaper that the energy retailers on our panel provide our customers with great service. 
We want our customers to save money and have a good experience, that is why we are your one-stop-shop. We do everything to help your switch to your new plan and exit your previous plan. We also regularly survey our customers to ensure that their switching experience has been seamless.
This way, you know you are getting a good energy deal in every sense of the word and that is why over 700 customers have rated Make it Cheaper 4.6 stars by ProductReview.com.au.
Save on Your Electricity: Compare Energy Retailers for Your Business
Even with the deregulation of energy markets, electricity and gas bills are complex.
You need energy experts like Make it Cheaper to help you compare different energy plans and providers.
At Make It Cheaper, we have over ten years of experience and expertise in the energy industry to ensure you enjoy great service. 
By working with us, you also get to benefit from the relationships we've made in the industry. We can use our existing relationships with energy retailers to negotiate excellent terms for your business.
Our energy plan comparison experts at Make It Cheaper will help you:
Assess your energy usage to understand your needs. This information will help us find you a suitable electricity, gas and utility contract.
Compare plans from electricity and gas companies. We can read into the fine print to help you choose a competitive option.
Compare discounts to ensure they are not a smokescreen. While some are good, some will get you hooked and may cost you more in the long term.
Read the fine print on exit fees and early termination terms on different plans.
Provide you with eco-friendly options if having a green plan is important to you.
If your business operates from multiple sites, your energy bills and needs can be more complicated.
Our team are experts in finding the most cost-effective multi-site energy solution for your business by consolidating all of your energy suppliers into one package with one supplier and one renewal date. It's a simple way to save on your energy bills.
Make the Switch With Make It Cheaper
With a better understanding of energy comparison, you can switch your electricity provider and start to enjoy savings on your energy bills.
Make It Cheaper helps you with the comparison and will provide you with an electricity cost assessment based on your actual rates, time of day usage and any discounts you may enjoy
While switching your energy plans with Make It Cheaper, we will:
Find a competitive plan based on your actual usage.
Contact your current providers to end your current energy plan.
Get the new electricity and gas company to make the switch.
Be your one-stop-shop for helping your switch go smoothly.
Offer you our unique DiFY product. Do it For You is our auto-renewal product that saves you time and money by keeping you on competitive rates forever. 
Switch your electricity and gas plan today with Make It Cheaper. 
Get started with a free electricity and gas comparison here.