An Energy Comparison can Help Stop your Business from Paying too Much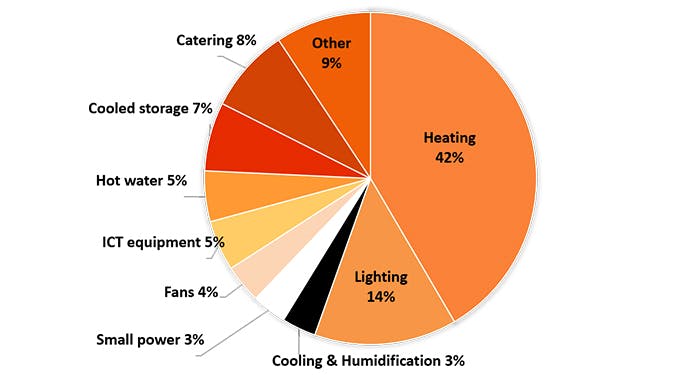 Energy consumption, as seen in the above image, comes from many areas. Your energy bill often grows as your business grows. 
The rising cost of electricity is affecting profits for Australian businesses. Combating it can be challenging but not impossible.
You can stop paying too much for electricity by:
Both options require a basic understanding of how electricity bills work.
Understanding your Electricity Bill
There are three main types of electricity bills in Australia:
Bills in energy regulated regions where the government determines most of the rates.
Bills in energy deregulated regions. Here, there are several energy companies competing to offer the best rate.
Commerical energy rates where you lock in your energy rate ahead of time-based on your usage.
Deregulation rules apply to businesses located in:
South Australia
New South Wales
Victoria
South East Queensland (Including Ipswich, Brisbane, Gold Coast and Sunshine Coast)
Australian Capital Territory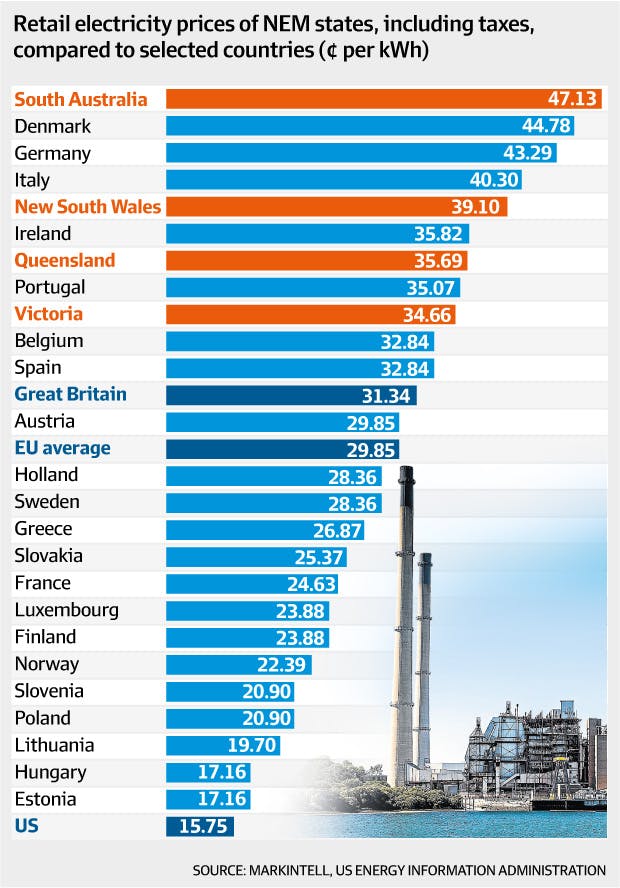 In deregulated regions, the Australian Energy Regulator, AER, offers guidelines for energy retailing. This is to help consumers get the a competitive energy deal.
These guidelines dictate the information your business should receive in a standard offer.
What Goes into your Energy Plan?
While comparing different plans from energy retailers, you should receive two documents: 
The Basic Plan Information Document (BPID)
The Detailed Plan Information Document (DPID)
These documents summarise important information on your bill, such as:
The gas and electricity unit plan in the offer. This may vary by retailer.
The applicable daily supply charge.
Major fees you may incur. This includes:
• Account establishment fees
• Late payment fees
• Exit fees
• Payment processing fee
Discounts and incentives offered by the gas and electricity company. You should look out for discounts such as:
• One-off energy discounts
• Pay on time discounts
• Dual fuel discounts
• Direct debit discounts
The duration of the contract.
Information on where to get the full terms and conditions of the energy contract.
The energy retailer's contact information.
Under AER regulations, every energy retailer must present this information on:
Their website
Brochures and flyers
Telemarketing calls
These guidelines exist to standardise the information you get from energy retailers. This makes it easier for you to understand your energy plan.
The AER encourages energy comparison; electricity bills should not affect your bottom line. 
Understanding Business Electricity Rates and Discounts
Getting a free energy comparison using Make It Cheaper is in your best interest. We can help find out if there is a better energy deal for your business.
The price you pay as a small business for electricity and gas includes tariffs and fees. All these are set in your contract. The tariffs also include Goods and Services Tax, GST unless otherwise stated
Some retailers may give offers under government regulation:
In the ACT, parts of Queensland and Tasmania, you can request for a contract with a regulated energy price.
In NSW, South East Queensland and SA, all offers must meet the Electricity Retail Code's offer prices, otherwise called the Default Market Offer
In Victoria, the Victorian default offer caps all electricity offers at a set price.
In some markets, there are no caps for electricity and gas offers and tariffs. Retailers can set and control their prices to stay competitive.
Understanding Australian Energy Tariffs
A tariff is an amount an energy provider charges your small business for energy. The tariff covers both fixed and variable energy charges.
The  Fixed Charge:
This is a set amount and does not depend on your usage.
You will see it as a separate figure on your bill under 'service to property' or 'daily supply charge'.
It can appear as a single figure for every billing cycle or as a daily rate (e.g., cents per day).
The Variable Charge:
You can also refer to it as the consumption charge. This is the amount you pay for each unit of gas or electricity your small business uses.
You can see it on your bill under cents per kilowatt-hour  (c/kWh).
Depending on your energy deal, you might have more than once variable charge in your energy plan. This will depend on:
The amount of energy you use daily. Some energy plans will charge you more for the first block of energy and reduce the rate thereafter. Other energy companies will do the opposite. They will increase the rate after the first energy block.
The appliances you operate in your business. If you have some appliances metered separately, they will have a different rate. You might even enjoy offpeak rates depending on the time of day you run these appliances.
Your choice of a renewable energy plan. Plans with renewable energy in their deal might have a higher or lower variable. They may also include the charge in the fixed energy price.
The time you use your electricity. Different rates apply for peak and off-peak hours. Some energy plans even offer 'shoulder hours'. This is the time between peak and off-peak hours.
Sometimes companies will change energy tariffs within a billing cycle. In such a case, your bill will show two variable charge amounts. One will be under the old tariff and the other under the new tariff.
Such changes can get confusing in a small business. This is why you need our Make it Cheaper experts when choosing an energy provider. You will need to compare different energy plans to get a better energy deal.
Who Are the Cheapest Energy Suppliers?
In deregulated states and regions, the cheapest rates will vary.
Once you begin to compare energy plans, you will notice the devil is in the details.
In electricity comparison, something as simple as the company's definition of peak hours can affect your energy plan.
Electricity comparisons exist to help SME's save on their electricity & gas bills.
The only way to find a competitive electricity and gas plan is to compare energy plans. You can run a comprehensive price comparison with Make It Cheaper who compare rates from up to 12 retailers.
Getting a Competitive Energy Rate for your Business
Electricity bills may give you insight into the process when making a comparison.
It helps if you can provide Make It Cheaper your current bill, this helps to understand your energy usage as well as see what current discounts you currently are enjoying, we then run an energy price comparison and find you a competitive deal.
The energy price comparison by Make It Cheaper process will include:
You sharing your current energy bill or your current rates with the Make It Cheaper team.
Our team of energy experts searching their network of energy retailers to find what savings are available to you.
You receiving a recommendation for a competitive utility (electricity/gas) plan for your business.
Secure competitive rates by comparing what you are paying now against multiple retailers
Once you receive the recommendation, you can make a decision. If you choose to switch, our Make It Cheaper market comparison experts will help you:
Processing your paperwork on your behalf (in a short 10 -15 minute call) with your new retailer
Canceling your contract with your current energy provider
Ensuring that you don't experience any service disruption and the switch goes seamlessly
Helping you stay on competitive rates once your current contract expires
The best part is you can access all these services for free.
Whether you are looking to save on gas or electricity, Make It Cheaper can help you find a competitive deal.
They will even help you find bundle discounts specific to small businesses.
Contact Make It Cheaper today and switch to a cheaper provider.

Photo by: yuenergy.co.uk