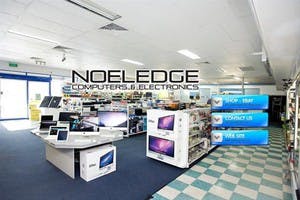 Noeledge Systems
Make It Cheaper help Noeledge Systems save $6,249 per annum* on their energy bills.
Noeledge System Pty Ltd is much more than just another computer store. Our team of fully trained and accredited engineers have certifications from World leading technology vendors including Apple, Cisco, D-Link, Intel, HP, Microsoft, Toshiba and VMWare. Our team has over 20 years of experience in supporting SMB, professional services and education sectors.
With access to all the leading IT brands, and the buying power of a Leading Edge Computers and Leading Edge Electronics National buying group, you can be assured of the right solutions at the right price. Our Partners include Apple, Cisco, Digium, D-Link, Intel, HP, Microsoft, Toshiba and many more.
Joanne form Noeledge Systems called Make It Cheaper after reading about the successful partnership in an e-newsletter sent from their buying group Leading Edge Group.
Here's what Joanne said about using Make It Cheaper's service:
"Im always looking to make a saving and with electricity prices becoming so competitive, I decided to give Make It Cheaper a call as they are Partnered with the Leading Edge Group, I spoke with one of their saving experts "Patrick" who was very pleasant to speak to, he took the details from our previous bill and came back with the top three best deals on his system, he carefully explained the rates and terms of each and left it with me to decide which option to take."
"I would absolutely recommend this service to all Leading Edge members as all it takes is one phone call and you could be saving $6,249 per annum like us."

Putting that kind of money back into the pocket of a business is what we are all about, it's great to make such a difference and hear that the customer is 100% satisfied with the service they received. Partners like the Leading Edge Group are invaluable to help us achieve our goals whilst providing huge benefits to it's members.
Visit our business energy page to see how we can help your business save big like we helped Noeledge Systems.
* based on 53MW of annual usage in NSW, based on a retrospective review of thier latest bill against the new supplier over 12 months