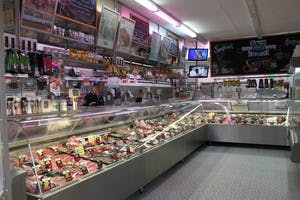 Greg's Family Gourmet Butchers
Make It Cheaper helped Greg's Family Gourmet Butchers negotiate competitive rates for their energy needs.
Greg's Family Gourmet Butchers pride ourselves on sourcing only the best products from all over Australia for our retail & wholesale customers. Greg's Family Gourmet Butchers have over 20 years experience in the Butchers field, servicing clients within the Rosebud area. From Red Meat to Sausages, we have the expertise to assist you with all your Butcher requirements. For almost 20 years we have been serving the people of Rosebud with traditional, old-fashioned friendly service.
At Greg's Family Gourmet Butchers our focus is delivering a high quality service at a competitive price to all our clients. If you are looking for a professional and reliable Butcher Shop at an affordable price, give Greg's Family Gourmet a call or drop in today.
Greg's Family Gourmet Butchers - Butchers Rosebud prides itself on sourcing only some of the best products from all over Australia and is able to supply a full range of high quality, naturally grown beef, lamb and pork products.

Proud members Greg & Jeanette Goss from Greg's Family Gourmet Butchers took advantage of Make It Cheapers long standing partnership with the Australian Meat Industry Council, Heres whats Greg had to say:

"We heard about Make It Cheaper through AMIC's newsletter. We wanted to look at the amount we were spending with retail butchery being very competitive, costs escalating - and power being one of our biggest costs. We managed to get a huge saving for the two shops. Not only did Make It Cheaper get me set up properly, but they also renewed my contract again with cheaper options. There are no hassles, they do all the work and advising, making it very easy. It's a good service provided by AMIC for its members and all members should at least compare their power bills even if it's just to have a look. You could reduce your power bill considerably and save money."

It's great to see our expertise pay off – by helping another business to cut out the time and hassle of setting up a new energy contract.
Visit our business energy page to see how we can help your business save.