Why Bother to Compare Energy Plans? Does it Really Matter for Your Business?
Although it may seem tiresome, comparing energy plans can be a way for your business to save a lot of money. 
You may not have the time, or the expertise to personally handle an energy plan comparison. Electricity and gas plans can be confusing and require a keen eye to spot a cheaper energy deal.
There are a few other reasons for you to compare energy plans with others in the market. These may depend on varying business needs or changes in electricity and gas prices. 
Whatever the reason, it is advisable to compare energy plans on an annual basis. 
Make It Cheaper is able to provide this comparison service to your business free of charge. We'll prepare a comparison for you to take a look at. Then you can decide if your SME could benefit from comparing plans. If we find a better deal, you can switch energy providers and we'll do all the heavy lifting with our Do it For You service.
Reasons to Compare Energy Plans
Business Energy Needs Change 
As your business grows, you may employ more people and move to larger premises. These changes will increase your energy consumption and increase your electricity bill. If you plan to buy new equipment, your consumption will also increase. 
Tip: Reducing the speed of a motor by 20% can decrease consumption by 50%. 
On the flip side, you may be downgrading your business. If you are still paying the same rates, your business is clearly wasting money. 
The best thing to do is to compare electricity plans and decide on a cheaper option. 
Moving Your Business Location
Changes in your business may mean you have to relocate your business. It could be to reduce rental charges or reach more customers. 
Like moving house, moving your business will require a change in your electricity contract. When someone is moving house, their electricity supply ceases the day they leave.
With businesses, the day you leave the old premises marks the end of your contract.
Electricity is connected to the supply point, and each point has a different provider. 
Follow these steps before you move out of your current premises:
Your previous retailer may not necessarily have competitive pricing at your new address, don't automatically assume that they are the best option.
Once you have found a competitive plan for your new premises, ensure that you email your current retailer with your new business address. This is necessary for them to send your final bills.
Provide proof to the current supplier that you are giving up control of the business location.
Take a photo of your meters on the day you move out. This will help your old supplier process the change of tenancy notification. 
When you move to your new location, you may choose to use the same retailer and energy plans. However, this may not be possible because the electricity supply is based on location.
Moving is a great opportunity for customers to shop around for cheaper electricity.
Compare quotes of multiple energy retailers in your area using Make It Cheaper to help secure a competitive rate for your new premises.
We will be able to compare electricity plans from up to 12 different energy suppliers. You can then make an informed decision about which provider is right for your business. 
Change Billing Methods 
Many Australian businesses receive electricity and gas bills measured by taking meter readings. These are used to calculate your bill.
A smart meter is a way to automatically monitor details of your electricity and gas usage. They are then sent directly to your provider.
They collect electricity usage in near-real-time and gas every 30 minutes. This information is displayed in the smart meter unit display.

The added advantage is you will be able to clearly track your energy usage over time. You can then monitor the cost and begin to use electricity and gas more efficiently.
If you wish to take advantage of off-peak rates, you will need a smart meter. This will let you connect to a time-of-use electricity plan. 
Businesses that operate during the evening or weekends can save money by switching to an off-peak rate, a quick call to our energy experts at Make It Cheaper can find you a competitive tariff based on your businesses energy usage. 
An Energy Comparison Service You Can Trust
Make it Cheaper has been rated 4.6 stars on www.productreview.com.au by over 700 people who have completed an energy comparison and found savings on their energy bills.
 And the savings are not to be sneezed at! In the past 10 years* Make it Cheaper has saved Aussie homes and businesses over $358,000,000 on their energy bills.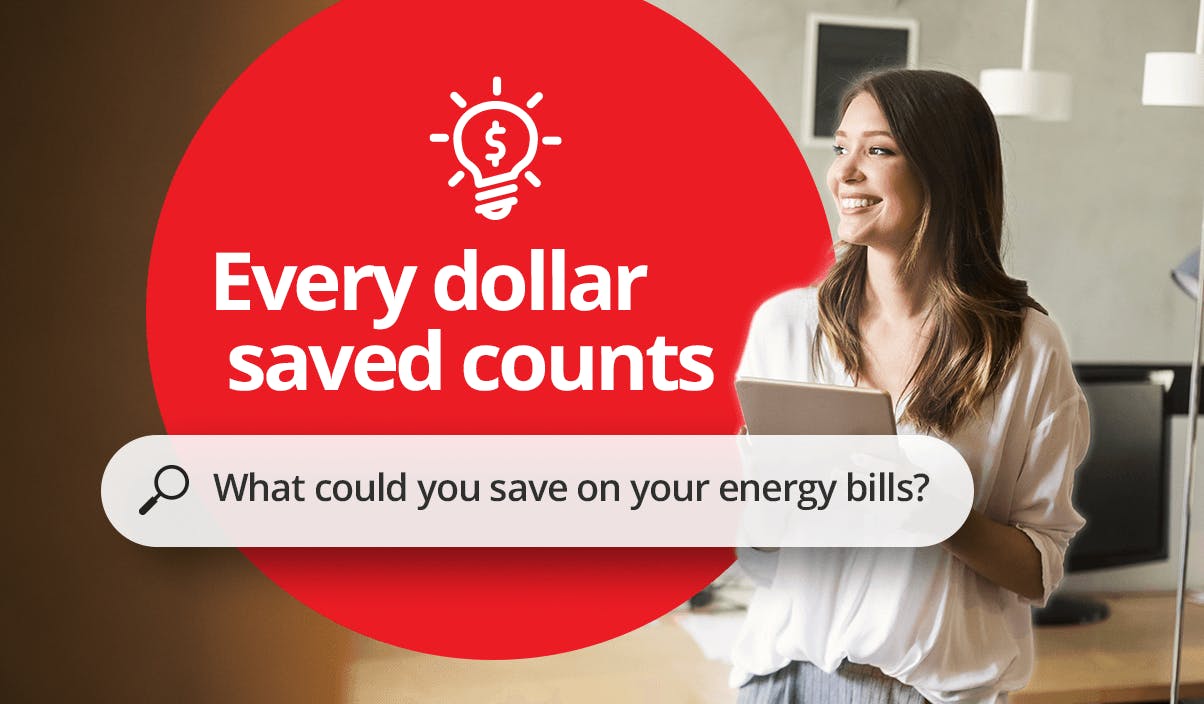 Did you know that we find savings for 8 out of 10 people who get an energy comparison with us?
A quick phone call to our energy experts in our Sydney based office is all it takes to see if there are savings to be made. Are you one of the 80% of people overpaying on your energy bills?
Simply compare energy suppliers to find an electricity provider who values their customers. This Make It Cheaper customer says it like it is.

Here Are What Other Aussies Are Saying About Their Experience With Make It Cheaper.
Make Your Energy Supply Sustainable
Sustainability has been gaining popularity as a way to help businesses go green. 
Some electricity and gas providers offer renewable tariffs known as green energy tariffs. 
Green energy tariffs may be cheaper than normal rates as providers tempt customers with lower prices.
These energy plans are a mixture of clean and dirty power but it is still a step towards helping the environment. 
Make a price comparison between energy retailers who can provide a 'green plan'. This could result in significant savings on your electricity bill. 
How to Switch Energy Providers
After making a price comparison, some of the most asked questions are: How do I switch my energy provider? What is the best energy plan for my business? 
Luckily, at Make It Cheaper we offer you a stress-free switching process.
Here are the steps for a hassle-free switch:
Check the exit date of the contract on your existing plan.
If your business has an existing contract, you can only switch if the:
Contract has expired.
Supplier has offered renewal of the contract.
Cancellation fee is met.
You may not switch if:
You have a commercial fixed energy contract.
You owe the energy supplier money.
You should keep tabs on your contract renewal date, or when your contract ends. This will give you ample time to gather information on alternative plans. 
Or, if you find a new plan through Make it Cheaper, you can sign up to the Do it For You service. This service will automatically look for a new competitive offer before your current contract expires. This way, instead of rolling on to a default market offer you'll find a competitive market offer. 
Compare quotes from various retailers
You can also approach your current retailer with quotes of plans from a different energy retailer and negotiate a lower rate, but that may not necessarily give you as good a deal as comparing up to 12 energy retailers with Make It Cheaper.
To perform a market comparison using Make It Cheaper, simply email [email protected] with a recent energy bill. Make It Cheaper will then give you quotes from various retailers in your state or territory.
Confirm your business switch
Make It Cheaper also handles the switch, making the process easy and painless. In just one phone call to our energy experts, we can find you a new competitive rate across our panel of leading energy retailers. And if you like the savings we find, we can organise the transfer to the new plan and cancel your contract with your previous provider.
We also cancel your previous contract, you just need to look out for your last bill from your previous supplier. It can take up to 3 months to switch depending on when your meter was last read.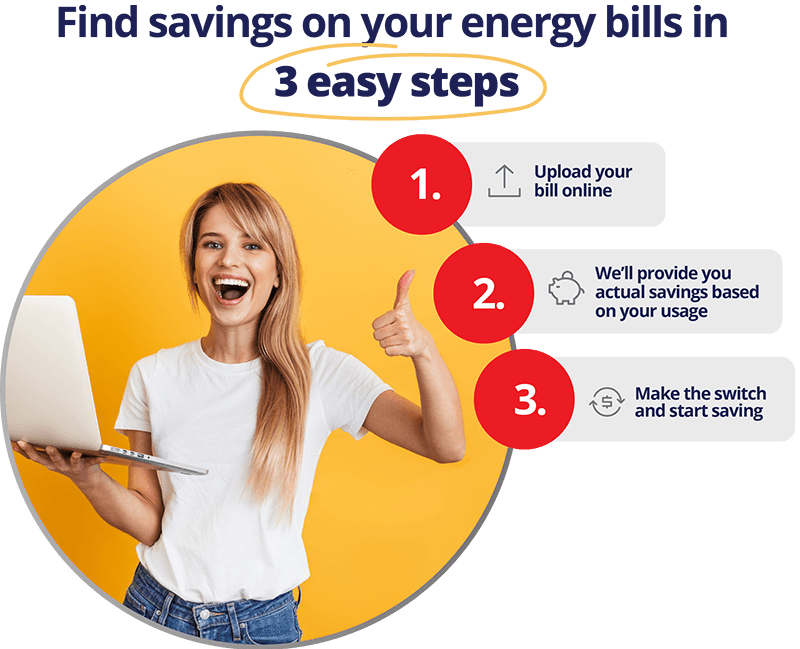 Compare and Switch the Easy Way
You may be making changes to your business structure or moving premises. With these changes, it is advantageous to reconsider your energy plan. 
Compare your energy and gas plan with help from Make It Cheaper's saving experts. Why not make the switch like this happy customer?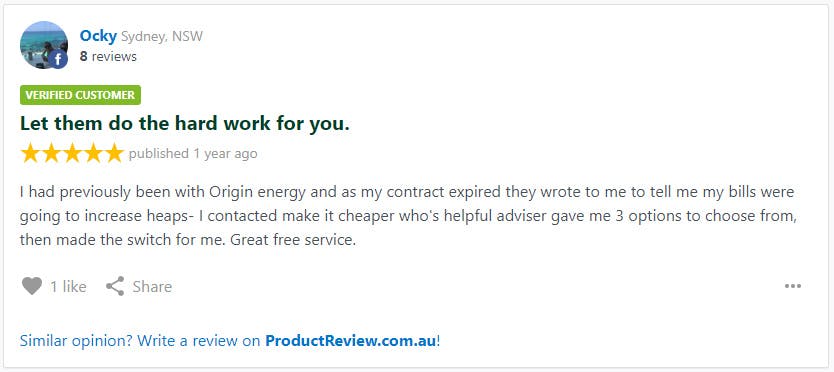 We prepare quotes from a panel of top Australian energy retailers. We also offer advice on finding an energy plan based on your business's energy usage.
We find deals that reduce your energy bills and even handle the switch from beginning to end. Our intention is to save you both time and money so we offer our services for free. 
If you're looking for cheaper energy deals in the Australian energy market, Make It Cheaper can help.
Photo by: unsplash from Elizabeth Kay