How to Find an Electricity Plan to Save Your Australian Business Money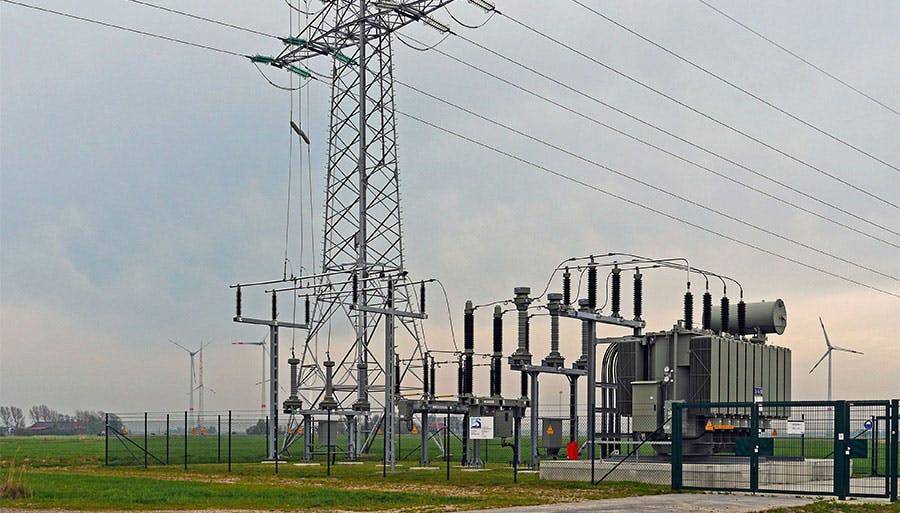 Electricity is an essential business need.
As your business evolves, your energy requirements may change too. You may want a little more from your customer service.  As you adapt to these changes, you should consider conducting a market comparison. Make It Cheaper will handle this for you.
Not convinced you have the best electricity provider? A quick comparison could save you a lot of money.
Unbeknownst to many Australian entrepreneurs, there's a competitive range of energy providers. Many who can save them thousands of dollars. Just like our happy customer below: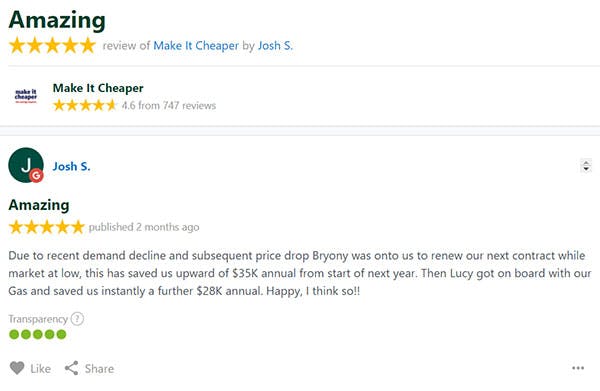 It's not only about savings or finding the cheapest electricity provider. Though, these are good enough reasons to look into your options. You want to make sure your energy plan and provider match your energy usage.
Businesses also look into switching energy providers because they:
Are changing their billing methods.
Feel unhappy with their current customer service experiences.
Want a plan that covers all of their energy sites with consolidated billing.
Are moving business premises.
An Australian energy retail plan that factors in the above reasons starts with an energy bill review.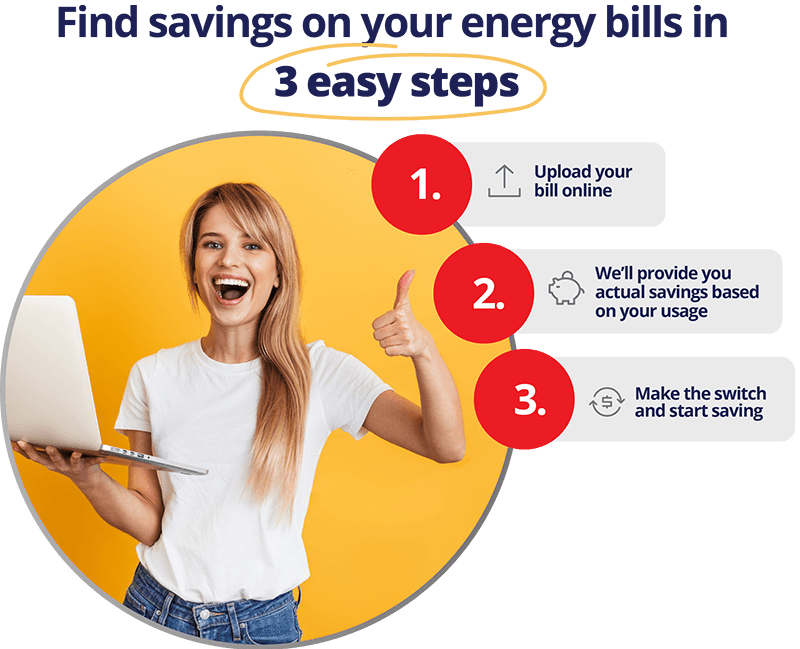 To get the best service from your supplier you need to understand what they can offer.  But to find a competitive electricity deal for your business, there are some best practices you can follow.
The tips in this article can help you get a better deal from your new energy service plan. 
Start by Reviewing Current Retail Energy Service Options
Let's look at  Australia's electricity, gas and overall energy service dynamics. 
Electricity providers send you a bill. It usually covers the wholesale cost of electricity and natural gas. It also factors in the network transportation and retail service cost.
The Australian Energy Regulator makes sure Australia's retail energy markets remain competitive. At the same time, it should be beneficial to consumers.
Deregulation is one such beneficial policy spearheaded by the government.
Originally, electricity and natural gas services in Australia were a regional, no-competition affair. Each market operated independently, and all energy prices were fixed by government bodies. 
Giving the power of retail price regulation to private energy retailers created change. It made the market more consumer-focused. Thus the government ensured that Australian businesses would have more manageable electricity bills. They enjoy the best customer service possible from energy retailers of their choosing. 
Energy contracts are quite profitable. This means that retail providers have to make sure their services are exceptional. Businesses are looking for competitive pricing and top-level customer service.
There's no reason to pay more on your electric bill. 
Deregulation has even more benefits. In 2016 the Australian Energy Market Commission  (AEMC) shared good news. This was through their Retail Competition Review Report. Customers were able to save between $140 - $380. Even when they switched from a standing or default offer to a competitive market offer.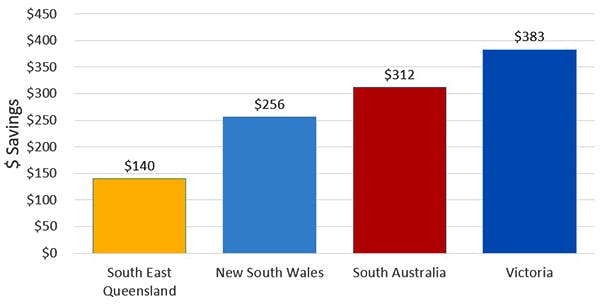 Energy Consumers Australia (ECA) Consumer Sentiment Survey Report found more. Deregulated markets showed a higher level of satisfaction. A competitive energy market is good for business.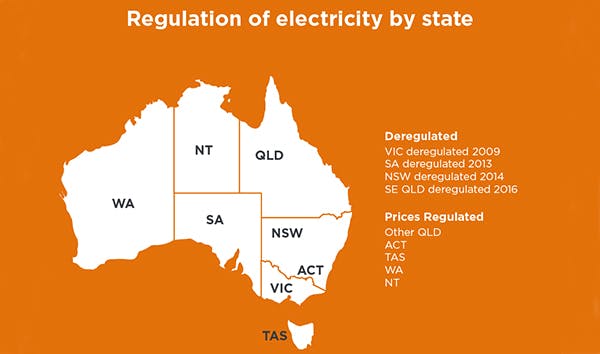 So which areas can compare gas or service plans? We can find your business competitive rates if you are located in the following regions: 
Coastal South Australia
Victoria or the Australian Capital Territory
New South Wales
Southeast Queensland
Residents of Western Australia can choose service energy providers too. But the premises need to use over 50-megawatt hours (mWh) of electricity per year. This also only applies for SMEs located in the South West Interconnected System. 
There are parts of Australia still under government regulation. There are fewer electricity providers in these specific areas. They include: 
Tasmania
Regional Queensland 
Northern Territory
Western Australia (Below 50mWh consumption)
Will an Energy Comparison Help Your Business Find the Cheapest Energy Supplier? 
It is quite possible for the Make It Cheaper team of savings experts to find you a competitive business energy plan.
Sometimes, you won't even need to switch providers. It could be a matter of switching to the right plan for your time of use.
Here's an example. You may be looking for electricity providers with great solar feed-in tariffs. You may already be on a different service plan with a provider with competitive solar plans.
Worried about the high supply and usage rates associated with solar electricity? Our experts would look for a plan that meets you in the middle.
Your only concern should be how to master your energy usage. Make It Cheaper does the heavy lifting.
Our energy experts have access to a panel of leading energy retailers. If we find savings that appeal to you, we can organise the transfer to the new plan. We will also handle the cancellation process with your previous provider.
Our Do it For You service (DiFY) automatically searches for more competitive electricity and gas providers before your current contract expires. This keeps you from rolling on to the default market offer; you stay on a competitive market offer. 
Thinking about possible electricity and gas rate tariff costs?
In most states, an SME contract has minimal penalties tied to leaving a contract. 
See the table below:

Unless you have a commercial fixed energy contract, you can cancel your energy plan at any time. Most businesses find savings earned provide more benefit than an early termination fee.
If you are contract-free, there's a chance that your original discounts or even customer service benefits are not applicable anymore.
It is definitely worth looking into what electricity promotions or new customer service experiences are available. That's the way to get a great deal.
What Are the Electricity Plan Options for Business Customers? 
Specific terms or customer service details may vary depending on the provider. In general, there are also two types of plans available to SMEs. These are:
Market offers. Market retail offers exist between a business and the provider. Usually, they have competitive rates for gas or electricity. 
Market retail contracts work best for SMEs with minimal energy needs. In some cases, energy plans can cost SMEs up to 26% less than standard offers.
Negotiated market contracts. These work best for large energy users. Note that this plan is usually based on market prices, which exposes a business to price changes. Such contracts can save money for a business. They need to know their energy needs and be conscious of their electricity and gas use.
Standard retail offers. These are basic contracts which have minimum terms and conditions. Market offers are almost always cheaper than a standard offer, so if your contract has expired, you should find out what market offers are available.
In most cases, retail service providers roll customers onto standard offers once their original market offer contract term expires.
This move may not always be the most competitive for business. Customers could lose existing discounts or find themselves inadvertently switched over onto a higher rate.
This is where Make It Cheaper steps in.
Our energy experts are equipped to scour a panel of multiple retail providers to find the right one for you. We can do this while your current contract is active, taking the worry of timing off your mind. 
Figure Out Your Energy Finance Options 
Switching electricity providers or attempting greener energy consumption is great. But the cost may sometimes be higher than your projections.
In that case, there are financial assistance options provided by the Australian government. 
The grant programs arose to reward businesses taking on energy efficiency projects.
To be eligible for these grants, companies have to meet certain requirements. Be sure to review each funding guideline that catches your eye. These criteria differ depending on jurisdiction and choice of energy program.
Common energy finance options by the government include:
Energy performance contracts: Popular in the commercial building industry. This option reduces bill costs by retrofitting the building. The provider uses the resulting energy savings to fund the cost.
Energy grants: Provided to SMEs to assist them to improve energy efficiency.
Leasing: An efficient method to lower the up-front costs of switching your business to more energy-efficient equipment.
On-bill financing: A customer service dream where the provider supplies your business with energy-efficient equipment. In exchange, you only need to make regular bill repayments.
Start Comparing Electricity Prices at No Cost
It's true the cost of electricity can be quite high. But it doesn't need to be.
By choosing Make It Cheaper, you are not only getting a competitive electricity deal. You'll also receive fair, honest and expert advice.
The decision to switch electricity providers could be the best move for your business to reduce costs.
We are here to help you make more informed choices for your business.
Your business doesn't need the burden of paying for a comparison service.
Make It Cheaper's first promise is to find you a better electricity or energy plan free of charge. We receive an introductory fee from the retailer that finally wins your business. So we don't charge you for using our service.
You may choose to approach your current retailer to negotiate for a better deal. But that may not necessarily have the same powerful effect as our team.
Keep in mind that we will be comparing multiple energy retailers on your behalf, including some of the big well known energy companies like AGL and Energy Australia as well as some of the smaller electricity retailers that can be very competitive.
One phone call is all it takes and our energy experts will take care of the rest. We will ensure that you receive competitive electricity provider rates on our panel.
If you like the cost savings we find, we will take care of the transfer arrangements to the new plan and cancel your contract with your previous electricity provider.
Don't just take our word for it. Read more testimonials about our stellar customer service here.
We've arranged incredible electricity deals for over 150,000 business contracts since 2009. 
Get in touch with us today to compare and find a better electricity plan for your needs.
Photo by: Pxhere