Small Business Spotlight: Silver Star Charms
Many of the business owners we have spoken to in our small business spotlight series so far have created their businesses from a previous hobby or passion and today's business is no different. Read on to read our interview with Amanda, owner of Silver Star Charms.
The Beginning of Silver Star Charms
Eleven years ago Amanda was working as a graphic designer whilst making jewellery in her spare time. Inspired by the idea of doing something that she loved for a living and having a desire for the freedom provided by being her own boss, Amanda decided to begin her own business. She thought that with the passion and knowledge of charms that she has, it would be wonderful to make a living from them. Amanda began by selling new charms that she sourced from carefully selected charm makers alongside her jewellery designs. Gradually, the charm side of the business grew and Amanda began sourcing and selling vintage charms to charm collectors. In 2012 Amanda realised that it was time to dedicate a section of her business entirely to the charms and this was where Silver Star Charms was born.
Whilst Amanda's businesses have grown over the eleven years that she has been running them, her time as a business owner has not been without its challenges. When asked what the biggest challenge has been, Amanda answered with the following:
"Without a doubt finding a suitable platform on which to launch Silver Star Charms. It can be daunting having to rely on a website building company and nearly impossible to know whether they'll be right for your business."
After some challenges with web developing firms, Amanda began looking at ways of cutting out the middle man. She did this by finding an e-commerce company which did not need an independent web developer to build the store.
"It took no time at all to see that it was exactly what I'd been wanting for years! Now I am strongly recommending them to anyone who is looking to set up their own online store and am offering free advice to anyone who'd like it!"
Advice to Aspiring Business Owners
Speaking of advice, we asked Amanda to share with us the advice she would give to anyone looking to start their own business and she shared with us the following:
• Over deliver where customer service is concerned
• Ship faster than you advertise you will
• Learn from your own mistakes
• Only embark on something you're passionate about, success is far more likely
• Listen to your customers, they often have the best ideas
It may not be business related, but we couldn't not ask Amanda whether she had a favourite charm and if so, which one it is. The favourites that she sells are the acorn which opens up to reveal a squirrel and a buffalo. The favourite of her personal collection was made in 1899 and is hand enamelled gold with a tiny diamond in the centre of the star. She has shared a photo of this with us below.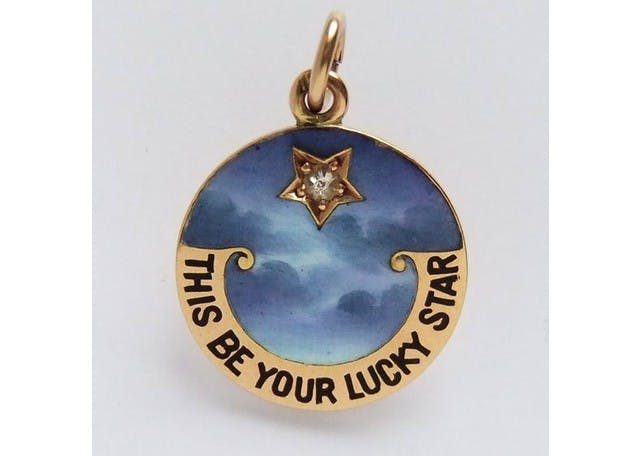 Discover More About Silver Star Charms
For more information about Silver Star Charms and to browse through the charms that are currently for sale you can visit the Silver Star Charms website. You can also follow the store on Twitter or like their page on Facebook.