Small Business Spotlight: 808 Dude
With a passion for all things organic/natural and a previous career as a fashion and beauty editor, it seems an organic transition for Carolyn Palliardi to now be the owner of 808 Dude; a natural and organic personal care brand for teenage boys.
The Beginning of 808 Dude
808 Dude began two and a half years ago, after Carolyn's son asked for a can of antiperspirant. Knowing all of the chemicals and nasties that this particular brand houses, Carolyn had a bit of a dilemma; she wanted her son to have the antiperspirant, but without all of the chemicals and nasties. Carolyn began her search for a natural antiperspirant, but the only one she could find was 100% tea tree oil – a brilliant product, but what teenage boy would want to smell like tea tree? After further investigation for a teen-boy friendly natural product, Carolyn realised that there was a huge gap in the market and in true entrepreneur style, she decided that she would fill it! In Carolyn's words, she "jumped into the abyss of developing a teen boys brand and have been winging it ever since." Well, with 808 Dude now having stockists across Australia and beyond it seems like 'winging it' is one business plan that's working for Carolyn!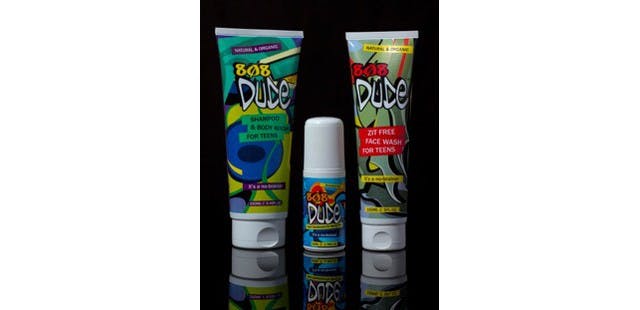 Finding a Small Business Niche
Finding a niche for a small business can be a huge help for many, but how did Carolyn find creating an entirely new market category with her brand? "The teen boy category has never existed in personal care in any retail business space. This at first, made it very difficult to break in because even though we were offering them a new space or category with a unique brand some buyers didn't get it at first. If we were approaching young women or older men they missed the point. When we pitched to women who had a teen son we didn't have to say very much. They got it straight away. That was over two years ago and we are now finding it easier to pitch to buyers as there has seemed to been some shift or a desire to find a unique brand filling a space that hasn't been conquered yet. Whatever the reason, we are finding it easier to get our message out there that 808 Dude takes the stink out of adolescence, naturally!"
Being such a success so far, we couldn't not ask Carolyn for her business advice; "The one piece of advice I'd give to someone planning to start their own business is to find a mentor – hopefully – from their field as this can save weeks, maybe months of time and energy." And if you can't find that one, individual, mentor? "Join groups of like-minded people as you will need somewhere where you can ask for help or advice. Eventually, I did find someone in my business space and that helped a lot."
Discover More
Whether you're inspired by Carolyn's entrepreneurial spirit and want to find out more about 808 Dude, or you have a bit of a stinky adolescent about who could do with some of the 808 Dude products, you can visit the 808 Dude website here.