Air Conditioner or Fan?
Did you know 87% of Australians pay too much* for their electricity and gas?
Find out how much you could save by switching providers with no interruption to your service.

It's that time of year when the temperature is rising and we're all looking at ways to cool down. The easiest way to lower the temperature at your home or business may be to turn on the air conditioning unit, however this isn't the only possibility.
Cooling a large space can often be costly, so if you're conscious of your energy bills then the summer months can seem like a losing battle. However an air-conditioning unit isn't the only choice you have in the quest to cool your home or business and a fan can be just as effective.
If you're looking for some advice and guidance on cooling your space or want to see how you can make steps to reduce your energy bills this summer, read on as we take a look at both reverse-cycle air conditioning units and fans.
Reverse-Cycle Air Conditioning Units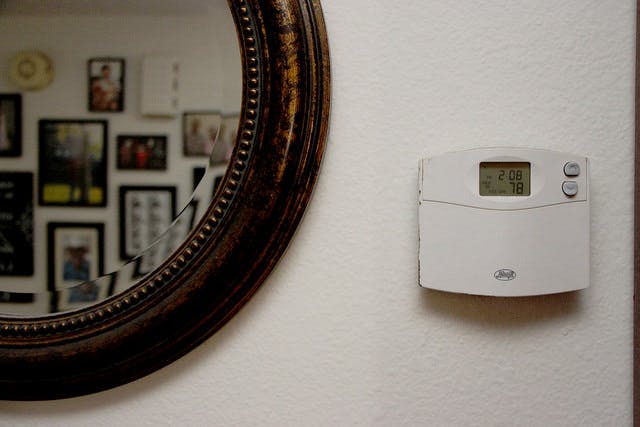 Thermostat image by StarsapartStarsapart image by Starsapart image by image by Starsapart image by Starsapart image by image by Starsapart image by Starsapart via Flickr.
Reverse-cycle air conditioning units can be a great choice for both the home and office as they can also heat your home in the winter. These units work to cool a room in summer by absorbing heat from the inside air and dissipating it outside and to heat a room in winter by absorbing heat from the outside air to heat the air inside. This is a much more energy efficient method to conventional heaters which must use energy to create the desired temperature.
Tips to Reduce Power Usage of Reverse-Cycle Air Conditioning Units
Ensure that you pick the right sized appliance to appropriately cool the space as choosing a model that is too big could lead to increased energy bills. As a rough guide, aim for 125 watts per square metre of floor for living spaces and 80 watts in the bedroom.

Ensure that the unit is installed correctly and regularly maintain it by cleaning out the filters and following the manufacturer's guidelines to reduce build-up of dust on the machine that will make it work harder and use more energy.

Like with any electrical product, ensure you look at the energy efficiency rating and choose one with the most stars.
Ceiling Fans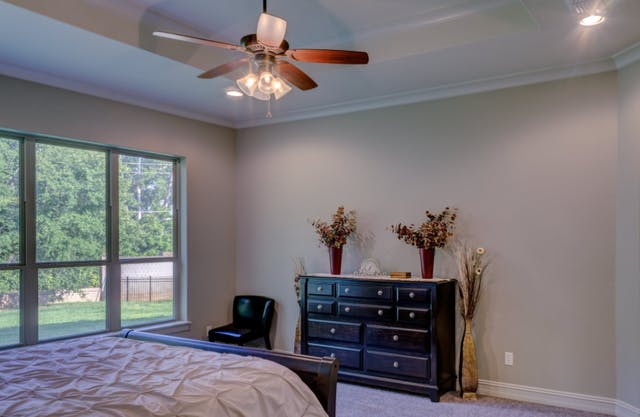 If you are looking to reduce your energy consumption whilst saving dollars on your energy bills, then fans are a great choice for cooling your home or business as they are the cheapest option on the market. Fans use 90 per cent less energy than central air conditioning units and can make rooms feel seven to ten degrees cooler. Fans work by using 'wind chill' to reduce body temperature rather than cooling an entire room so whilst the room temperature will not change, your body temperature will do.
Tips To Reduce Power Usage of Ceiling Fans
Make sure you compare the power consumption and air flow rates of fans before purchasing. Some ceiling fans are more economical than others, so ensure you make the right choice if you're looking to save on your energy bill.

The average ceiling fan uses around 75 watts of energy to produce 140 cubic metres of airflow.

In winter months you can reverse the rotation of ceiling fan blades to help heat the room. The reverse in rotation will push warm air downwards into the room.
Which Option Is Best?
There is no straight forward answer on which is best between an air conditioning unit and a ceiling fan, however if saving money is at the top of your priorities list then a fan could be the best option for you.
Save On Your Energy Bills This Summer
However you choose to cool your home this summer, making sure that you're on the best and cheapest energy tariff for your needs is a sure way to reduce your bills. Get in touch with Make It Cheaper today to speak to one of our saving experts to see if switching your energy supplier could help you make big savings this summer.
*Based on MiC's analysis of 95,122 customers and 209,073 bills during 2016 & 2017.
See Also:
Compare business electricity plans