How to Find Great Electricity Deals for your Business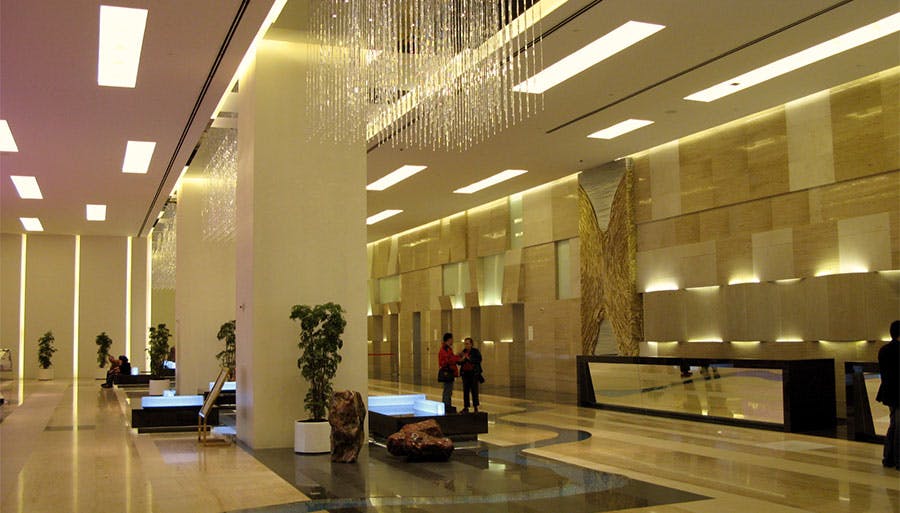 Your SME's electricity bill is likely a significant pain point to you as an Australian business owner.
More and more business owners are paying more than necessary for gas and electricity. 
But as energy usage is a vital need for a thriving business. It's all about finding the best market offer. 
Energy usage and affordability have been a concern for Aussie businesses for a long time.
Statista compared prices in Australia against a global energy market. If you compare the information available in the global graph shown below, the energy cost makes a grim statement. 
Electricity prices in South Australia are some of the most expensive in the world. See the numbers for both Denmark and Germany. The annual cost implication will make any savvy entrepreneur want to compare energy providers.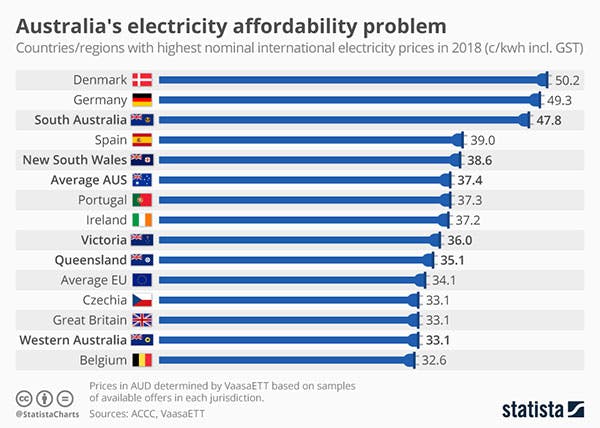 However, there is good news. Up to 80% of Australian businesses are only one phone call away from finding a more competitive market offer using the free comparison services offered by Make It Cheaper.
The majority of Australian States are under deregulation. Deregulation is the removal of retail price regulation set by the government for private companies.
Australian energy prices may be cheaper than most business owners believe. Close monitoring of supply networks is still necessary to ensure fairness. But this newly deregulated system offers better outcomes.
Have you been weighing up your energy options? If you are considering making the switch Make It Cheaper can provide you with a free energy comparison and do the research for you.
Let's get you started on finding the best gas and electricity deal.
Market offers differ.  Here are some FAQs to guide you through the decision process. 
Why Should you Consider Switching from your Current Gas and Electricity Providers?
In 2019, Alviss Consulting and the Energy Consumers Australia conducted a countrywide energy analysis.  Electricity costs are worth noting here.
They surveyed different SMEs consuming between 20,000 - 100,000 kWh of electricity per annum. In general, Australian SMEs pay around $2,120 -$7,940 for electricity each year.
At Make It Cheaper, we know that businesses can pay on average pay $1100 more than they need to. Finding competitive energy deals can cushion businesses that need to cut costs.
A great electricity deal saves you time & money.  That is why energy comparison matters.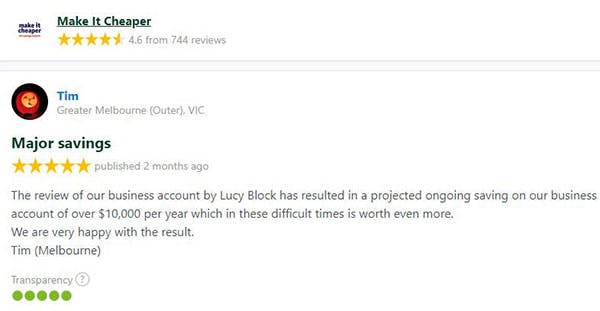 Here's another example.
The annual gas bills for South Australian SMEs consuming 100,000 MJ increased by 5% by October 2019. Such high rates can impact your business's bottom line.
Make it Cheaper conducted a comparison for electricity rates for Radisson Blu - Sydney. During their 3-year electricity contract period, we put their energy contract out to tender.
In so doing we negotiated a competitive energy deal for them. We were able to find them an electricity and gas deal that matched their energy usage. 
Have a look at their testimonial below:
You should consider switching energy providers if you want to:
Find an eco-friendly provider. You may get an environmentally friendly energy plan. Providers like Simply Energy have green options. 
Enjoy increased flexibility on business contracts and plans 
Take advantage of solar electricity rebates in Australia. (Subject to availability). 
Origin Energy assures customers of well-packaged solar solutions. While considering switching to solar, you may find an interim solution that still saves you money.  
Find better types of customer service from your energy provider.
Consolidate multiple energy sites to
Match your new usage needs with the right energy provider.
Who Can Make the Switch?
Deregulation of energy markets can help small businesses. The process of deregulating the market has led to small businesses gaining more freedom of choice with electricity and energy providers.
The following states allow SMEs to change energy plans or retailers with ease:
Coastal South Australia
Victoria or the Australian Capital Territory
New South Wales
Southeast Queensland
Conversely, these regions are still under government regulation. This is due to fewer energy competitors in those specific areas. This might change in time.
Northern Territory
Western Australia
Regional Queensland 
Residents of Western Australia & Tasmania can choose their energy provider, but with a caveat. 
The premises need to use over 50-megawatt hours (mWh) of electricity per year. Leave your details to find out what we could save you.
However, all Western Australian residents have the freedom to compare and choose their gas providers.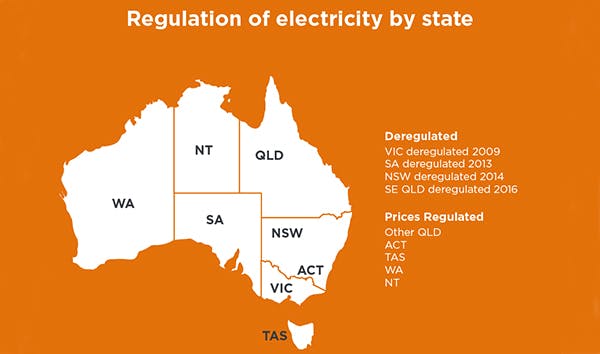 What Should you Look for in a New Energy Plan and Retailer?
There are distinct features available with most retail energy contracts:
The majority offer plans
Others have built-in renewable options 
Certain ones offer on-time payment discounts. 
Some give staggered payment terms
Important areas to look out when looking for a better electricity or gas deal include: 
The fine print. As you compare providers, take time to review their energy price terms. Some plans may include set time periods or fixed rates. You want to avoid getting locked into an unbreakable contract. They usually attract early termination fees. 
The retail plans. Pay attention to the kind of plan your business energy falls under. Market retain plan prices are set by the supplier. This gives them the freedom to change rates at any time. They are, however, obligated to inform clients by the time the next bill is due. And most market retain plans offer bill discounts. 
Standard retail prices are set by the government. They are more expensive than market retail plans. Flexibility is limited in this case; you may only change once every half year. 
Customer service quality. You are looking for a supplier who can handle full spectrum service requests. Look out for special concessions and rebates. 
The provider should have the capacity to offer the same quality of customer service online and on the phone. 
Making the Energy Switch: Your Checklist
Before considering your next move, there are a few considerations you should make. 
First, look into the termination fee clause. 
Different electricity plans have set conditions that cover terms of exit. No matter how minimal the cost, you need to be aware of the exact figures.
This makes your overall budgeting and planning easier. 
You should also look out for usage discounts tied to your current rate. Some providers list them on the bill. Review the benefits to find the best value electricity deal. 
Or simply upload a bill and the energy experts at Make it Cheaper can do this for you.
Ensure all outstanding bills are paid up.
It might be difficult to switch your current provider if you have any pending invoices or debts.
Some business energy plans factor in a  financial hardship agreement. This is a great option, however, it might also limit you from moving over to another retailer. 
Some retailers will let you switch as long as you clear any overdue invoices. You can even be spared the cost of double billing after your switch. 
Providers like Simply Energy offer their customers pay on time discounts
This is why we cannot stress enough the importance of reviewing the fine print. Seriously compare each of the market offers at your disposal. 
Pin down your new energy needs.
A small business housing less than 20 employees will have completely different needs from an 800 room hotel. The same goes for a printing press or a thriving restaurant. 
The energy experts at Make it Cheaper can work for energy providers, understand how much electricity and gas your business needs. 
Typically, the only way to figure out your consumption is by reviewing your energy bills. 
Smart energy simply provides users with a better understanding of their energy use. Thus, better energy choices. From residential households to the power used in an SME set up. 
Find a Better Energy Plan Today
Running a business can be intensive.
We understand that thinking about switching energy suppliers can seem too complicated.
You want to be rigorous when you compare the pros and cons of the available energy plans.
You may get caught up with attractive new offers and discounts. In some cases, energy prices can go up after the discount period expires.
We're here to help. We know the Australian market and the changes to electricity structures.
Electricity comparisons may be simpler for us than you. We try to find each customer competitive electricity deals possible from our network of retailers.
Our job is to figure out an energy plan that ties in with your business usage and needs.
It is both free and easy.
In just minutes, our team of savings experts will search our network of Australian energy providers. 
We mentioned some of them in our article: Energy Australia and Simply Energy. However, our provider list is meticulously selected and much longer. 
Compare energy plans with us today.

Photo by: WikiMedia